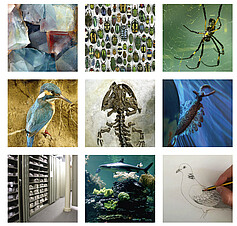 The Museum is open
All permanent exhibitions are open to the public without advance reservation.
All visitors aged 18 and over must present a proof of completion of the full vaccination regime, a negative RT-PCR (less than 48 hours old) or antigen test result (less than 24 hrs old), or a positive RT-PCR test result at least 11 days and no more than 6 months old, certifying recovery from Covid.
All visitors aged 11 and over must wear face masks.
Hier finden Sie das Formular zur Kontaktnachverfolgung. Sie können dieses schon vor Ihrem Besuch ausfüllen und mitbringen. Das spart Zeit. Vielen Dank!
Live web cam in our coral reef aquarium
Watch Kalli and Karla at play
Live-streaming impressions from our 240,000 litre giant aquarium with the biggest living coral reef in Germany – and the visitors' favourites, the black tip reef sharks Kalli and Karla.

BiNHum - Biodiversity Network of the Humboldt-Ring
Access and format of existing digital object data,...
[more]
ENTFÄLLT! Veranstaltungstipp: Führung mit Übersetzung in DGS (Deutsche Gebärdensprache)
Sonntagsführung mit Voranmeldung in der Großen...
[more]
Wir sind ein lebendiges Museum - in kleinen Filmen stellen wir die tierischen Lieblinge des Hauses vor.

Schauen Sie doch mal rein in unsere Kinderstuben zu Seepferdchen und Chamäleons!