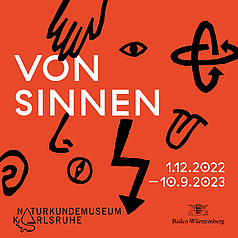 Maintaining a minimum distance of 1.5 metres from other persons, adequate hygiene, wearing a medical mask or a respirator (FFP2 or comparable) in enclosed indoor spaces accessible to the public and regular ventilation of enclosed spaces are generally recommended.

Come and see our special exhibition: (Un)Common Sense
Live web cam in our coral reef aquarium
Watch Karla at play
Live-streaming impressions from our 240,000 litre giant aquarium with the biggest living coral reef in Germany – and the visitors' favourites, the black tip reef shark Karla.

Monitoring und wissenschaftliche Auswertung von Biodiversität in den Schlossgärten Schwetzingen, Rastatt-Favorite und Weikersheim
Drei Schlossgärten werden hier unter die Lupe genommen. Das...
[more]
Wir sind ein lebendiges Museum - in kleinen Filmen stellen wir die tierischen Lieblinge des Hauses vor.

Schauen Sie doch mal rein in unsere Kinderstuben zu Seepferdchen und Chamäleons!