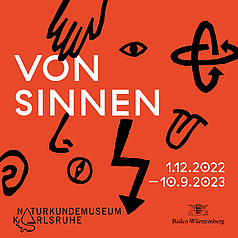 Maintaining a minimum distance of 1.5 metres from other persons, adequate hygiene, wearing a medical mask or a respirator (FFP2 or comparable) in enclosed indoor spaces accessible to the public and regular ventilation of enclosed spaces are generally recommended.

Come and see our special exhibition: (Un)Common Sense
Live web cam in our coral reef aquarium
Watch Karla at play
Live-streaming impressions from our 240,000 litre giant aquarium with the biggest living coral reef in Germany – and the visitors' favourites, the black tip reef shark Karla.

Species knowledge for everyone. The Karlsruhe Taxonomy Initiative
A new project started in autumn 2022: the "Karlsruher...
[more]

ANS LICHT GEBRACHT April bis Juni 2023
Sondervitrine mit Schätzen aus den Sammlungen Da wir nicht...
[more]