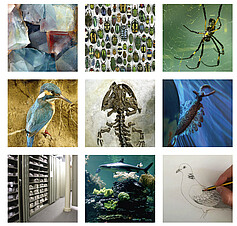 We are happy to welcome you back! With the opening of the temporary exhibition "Cosmos Coffee" all exhibitions are open again.
Please observe our safety and hygiene regulations.
Live web cam in our coral reef aquarium
Watch Kalli and Karla at play
Live-streaming impressions from our 240,000 litre giant aquarium with the biggest living coral reef in Germany – and the visitors' favourites, the black tip reef sharks Kalli and Karla.
EDAPHOBASE - a soil organism data warehouse
In the second project phase the non-commercial database...
[more]

Kostenlose Pilzberatung zu Ende
Im November keine Termine mehr
montags 17-19 Uhr
am Pavillon im Nymphengarten

Hier erfahren Sie mehr >>