Welcome to the press pages of the State Museum of Natural History Karlsruhe. Here you will find our latest press releases as well as downloadable images.
Please note that all images offered for download are protected by copyright law and are only to be used for journalistic purposes.
Your contact partner in our PR office:
Nina Gothe
phone: +49 721 175- 2155
fax: +49 721 175-2110
email: presse@naturkundeka-bw.de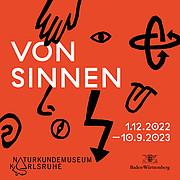 VON SINNEN
Die neue Große Sonderausstellung des Landes

Vorstellung der Ausstellung mit anschließender Pressevorbesichtigung
Mittwoch, 30.11.2022, 11 Uhr

Um Anmeldung unter presse@smnk.de wird gebeten.


AKTUELLE PRESSEINFORMATIONEN