Ethnobotany and Ethnozoology in the Himalayas - India, Nepal, Pakistan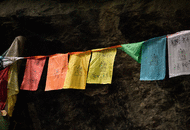 The Himalayan region harbors much of the world's biological and cultural diversity. This diversity is not only structured by the steep north-south gradient, but also by an east-west gradient in precipitation. Thousands of plants and animals are used together as medicine, food, fodder, religious purposes, etc. Particularly in mountainous communities, these crops are vital, in some areas they are collected by virtually all households and provide half of the household income
The dialectic relationship between indigenous knowledge and practices shapes the ecosystem and affects plant populations. Indigenous knowledge and uses need to be analyzed explicitly so that appropriate management measures can be developed that build on both scientific and local knowledge to manage both indigenous knowledge and plant populations. However, due to changing perceptions of local people, commercialization, and socio-economic change around the world, it has been widely observed that indigenous knowledge of the use of plant resources has declined. Due to the lack of organized and scientific cultivation, proper management and awareness of social factors, the number of useful plant resources is declining at an alarming rate. In addition, indigenous knowledge of the use of lesser-known plants is also rapidly declining. The present study therefore assesses plant and animal diversity and examines the relationship between plant diversity and indigenous use of plant resources along the altitudinal and longitudinal gradient.
The Himalayan Ethnobotany program is based on the premise that working with local people is the most effective way to sustainably conserve species-rich areas. By integrating ethnobotanical data into conservation plans, we work with communities to develop a program that not only protects and replenishes the ecosystem, but is also consistent with their daily lives and cultural practices.
Capacity building: We have teamed up with local colleagues to train PhD students in the methods of ethnobotany and provide valuable field experience. In addition, we support local universities in developing ethnobotanical research and courses.
Conservation: Our goal is to develop strategies with the local population on how to use their natural resources sustainably so that they can become wise stewards of their environment. We work with these communities to develop conservation plans that are both ecologically beneficial and culturally appropriate. We also firmly believe that preserving traditional knowledge is a key component of both conservation and sustainability.
Quality of Life: Improving the quality of life is a fundamental part of our work in every community. Our program is based on the belief that environmental activities must be closely linked to development activities in order to permanently solve poverty in biodiverse but economically poor countries. We also believe that an educated, healthy community leads to better decision-making.
Selected Publications
Ali E, Azhar MF, Bussmann RW. (2023):

Ethnobotanical inventory and medicinal applications of plants used by the local people of Cholistan desert Pakistan.. Ethnobotany Research and Applications 25:2: doi: 10.32859/era.25.21.1-23

Bashir SM, Altaf M, Hussain T, Umair M, Majeed M, MangrioWM, Khan AM, Gulshan AB, Hamed MH, Ashraf S, Amjad MS, Bussmann RW, Abbasi AM, Casini R, Alataway A, Dewidar AZ, Al-Yafrsi M, Amin MH, Elansary HO. (2023):

Vernacular Taxonomy Cultural and Ethnopharmacological Applications of Avian and Mammalian Species in the Vicinity of Ayubia National Park Himalayan Region. Biology 12:609: doi: 10.3390/biology12040609

Bashir, SM; Altaf, M; Hussain, T; Umair, M; Majeed, M; Mangrio,WM; Khan, AM; Gulshan, AB; Hamed, MH; Ashraf S; Amjad, MS; Bussmann, RW; Abbasi, AM; Casini, R; Alataway, A; Dewidar, AZ; Al-Yafrsi, M; Amin, MH; Elansary, HO. (2023):

Vernacular Taxonomy, Cultural and Ethnopharmacological Applications of Avian and Mammalian Species in the Vicinity of Ayubia National Park, Himalayan Region. Biology 12:609: doi: 10.3390/biology12040609

Benkhnigue O, Khamar H, Bussmann RW, Chaachouay N, Zidane L. (2023):

Ethnobotanical and ethnopharmacological study of medicinal plants used in treating some liver diseases in the Al-Haouz Rehamna region (Morocco). Ethnobotany Research and Applications 25:34: doi: 10.32859/era.25.34.1-32

Dastagir G, Bibi S, Ul Uza N, Bussmann RW, I, Samiullah. (2023):

Microscopic evaluation ethnobotanical and phytochemical profiling of a traditional drug Viola odorata L. from Pakistan. Ethnobotany Research and Applications 25:4: doi: 10.32859/era.25.4.1-24

Haq SM, Waheed M, Bussmann RW. (2023):

Measuring forest health at stand level: A multi-indicator evaluation for use in adaptive management and policy. Ecological Indicators

Haq SM, Waheed M, Khoja AA, Amjad MS, Bussmann RW, Ali K. (2023):

A cross-cultural study of high-altitude botanical resources among diverse ethnic groups in Kashmir Himalaya India. Journal of Ethnobiology and Ethnomedicine 19(2): doi: 10.1186/s13002-023-00582-8

Haq SM, Waheed M, R, Bussmann RW, Arshad F, AM, Casini R, Alataway A, AZ, Elansary HO. (2023):

Climate Change and Human Activities the Significant Dynamic Drivers of Himalayan Goral Distribution (Naemorhedus goral). Biology 12:610: doi: 10.3390/biology12040610

Haq, SM; Waheed, M; R; Bussmann, RW; Arshad, F; AM; Casini, R; Alataway, A; AZ; Elansary, HO. (2023):

Climate Change and Human Activities, the Significant Dynamic Drivers of Himalayan Goral Distribution (Naemorhedus goral). Biology 12:610: doi: 10.3390/biology12040610

Hassan M, Haq SM, Amjad MS, Ahmad R, Bussmann RW, Pérez de la Lastra JM. (2023):

Invertebrates and Herptiles for livelihoods - ethnozoological use among different ethnic communities in Jammu and Kashmir (Indian Himalayas). Frontiers in Pharmacology : doi: 10.3389/fphar.2022.1043155

Hussain J, Mehta JP, Singh A, Bagria AJ, Singh H, Nautiyal MC, Bussmann RW. (2023):

Ethno-medicinal plants of indigenous people: A case study in Khatling valley of Western Himalaya India. Ethnobotany Research and Applications 25:3: 10.32859/era.25.3.1-19

Iqbal KJ, Umair M, Altaf M, Hussain T, Ahmad RM, Zain Ul Abdeen SM, Pieroni P, Abbasi AM, Ali S, Ashraf S, Amjad N, Khan AM, Bussmann RW. (2023):

Cross-cultural diversity analysis: traditional knowledge and uses of freshwater fish species by indigenous peoples of southern Punjab Pakistan. Journal of Ethnobiology and Ethnomedicine 19(4): doi: 10.1186/s13002-022-00573-1

Khan K, Jan G, Irfan M, Jan FG, Hamayun M, Ullah F, Bussmann RW. (2023):

Ethnoveterinary uses of medicinal plants amongst the tribal populations of District Malakand Khyber Pakhtunkhwa Pakistan. Ethnobotany Research and Applications 25:42: doi: 10.32859/era.25.42.1-24

Mazher M, Ishtiaq M, Hamid B, Haq SM, Mazhar M, Bashir F, Bussmann RW. (2023):

Ethnobotanical importance and conservation status of Citrullus colocynthis (L.) Schrad in division Mirpur Kashmir Himalaya. Ethnobotany Research and Applications 25:33: doi: 10.32859/era.25.33.1-14

Rahman IU, Ijaz F, Bussmann RW. (2023):

Editorial: Ethnoveterinary practices: Animal production healthcare and livelihood development. Frontiers in Veterinary Science 9:1086311: doi: 10.3389/fvets.2022.1086311

Shah IA Burni T, Badshah L, Ul Uza N, Bussmann RW. (2023):

Quantitative ethnobotanical study and conservation status of herbal flora of Koh-e-Suleman range Razmak valley North Waziristan Pakistan. Ethnobotany Research and Applications 25:26: doi: 10.32859/era.26.5.1-18

Singh J, Rajasekaran A, Negi AK, Pala NA, Panwar VP, Bussmann RW, Malik ZA. (2023):

Potential of wild edible fruits for nutrition in indigenous communities of Northwest Himalaya India. Ethnobotany Research and Applications 25:9: doi: 10.32859/era.25.9.1-15

Waheed M, Arshad F, M, Haq SM, R, Bussmann RW, Ali K, Subhan F, Jones DA, Zaitouny A. (2023):

Potential distribution of a noxious weed (Solanum viarum Dunal) current status and future invasion risk based on MaxEnt modeling. Geology Ecology and Landscapes : doi: 10.1080/24749508.2023.2179752

Waheed M, Haq SM, Arshad F, Bussmann RW, Ali HM, Siddiqui MH. (2023):

Phyto-ecological distribution patterns and identification of alien invasive indicator species in relation to edaphic factors from semi-arid region. Ecological Indicators 148:110053: doi: 10.1016/j.ecolind.2023.110053

Waheed M, Haq SM, Arshad F, Bussmann RW, Pieroni A, Mahmoud EA, Casini R, Yessoufou K, Elansary HO. (2023):

Traditional Wild Food Plants Gathered by Ethnic Groups Living in Semi-Arid Region of Punjab Pakistan. Biolopgy 12:269: doi: 10.3390/ biology12020269

Abbas Z, Bussmann RW, Khan SM, Abbasi AM. (2022):

A review of current trends and future directions in the medical ethnobotany of Gilgit-Baltistan (Northern Pakistan). Ethnobotany Research and Applications 24:18: doi: 10.32859/era.24.18.1-16

Adil S, Altaf M, Hussain T, Umair M, Ni J, Bussmann RW, Ashraf S. (2022):

Cultural and Medicinal Use of Amphibians and Reptiles by Indigenous People in Punjab Pakistan with Comments on Conservation Implications for Herpetofauna. Animals 12:2062: doi: 10.3390/ani12162062

Ali M, Yar P.,Khan S, Muhammad S, Hussain W, Hussain K., Hussain G, Aneva IY, Tng DYP, Bussmann RW. (2022):

Land use and land cover modification and its impact on biodiversity and the ecosystem services in District Kurram Pakistan. Boletín Latinoamericano y del Caribe de Plantas Medicinales y Aromáticas 21(3): doi: 10.37360/blacpma.22.21.3.22

Amjad MS, Shakoor A, Bussmann RW, Qureshi H (2022):

Quantitative and comparative analysis of ethnomedicinal plants from the Lasdana (Azad Jammu and Kashmir). BASE - Biotechnology Agronomy Society and Environment 26(2): 108-120

Angmo K, Gailson L, Adhikari BS, Rawat GS, Bhat JA, Bussmann RW, Malik ZA. (2022):

Prevailing traditional health care services in Western Ladakh Indian Trans-Himalaya. Ethnobotany Research and Applications 24:22: 10.32859/era.24.22.1-12

Bibi F, Abbas Z, Harun N, Perveeen B, Bussmann RW. (2022):

Indigenous knowledge and quantitative ethnobotany of the Tanawal area Lesser Western Himalayas Pakistan. PlosOne : doi: 10.1371/journal.pone.0263604

Dastagir G, Jan SA, Ul Uza N, Ahmad I, Samiullah Bussmann RW. (2022):

Traditional knowledge and diversity of medicinal plants in Hindukush range Tehsil Mastuj Chitral Pakistan: An ethnobotany survey. Ethnobotany Research and Applications 24:29: doi: 10.32859/era.24.29.1-19

Dutta A. Sharma YP Bikarma BS Bussmann RW. (2022):

Plant-based veterinary practices in Jammu and Kashmir: A review of the trends transfer and conservation of traditional ethnoveterinary knowledge. Ethnobotany Research and Applications 24:4: doi: 10.32859/era.24.4.1-24

Farooq S, Gulzar A, Haq SM, Hassan M, Bussmann RW. (2022):

Millennial traditions - Exploration of ethno-medicinal knowledge among different ethnic groups of Northern part Kashmir Himalaya India. Ethnobotany Research and Applications 23:20: doi: 10.32859/era.23.20.1-18

Haq SM, Amjad MS, Waheed M, Bussmann RW, Prócków J. (2022):

The floristic quality assessment index as ecological health indicator for forest vegetation: A case study from Zabarwan Mountain Range Himalayas. Ecological Indicators 145:109670: doi: 10.1016/j.ecolind.2022.109670

Haq SM, Hassan M, Bussmann RW, Calixto ES, Ur Rahman I, Sakhi S, Ijaz F, Hashem A, Al-Arjani AF, Almutairi KF, Abd-Allah EF, Aziz AM, Ali N. (2022):

Cross-Cultural Analysis of Plant Resources Among Five Ethnic Groups in the Western Himalayan Region of Jammu and Kashmir.. Biology 11:491: doi: 10.3390/biology11040491

Haq SM, Rashid I, Soares Calixto E, Ali A, Kumar M, Srivastava G, Bussmann RW, Khuroo AA (2022):

Unravelling patterns of forest carbon stock along a wide elevational gradient in the Himalaya: Implications for climate change mitigation. Forest Ecology and Management : doi: 10.1016/j.foreco.2022.120442

Haq SM, Waheed M, Bussmann RW, Arshad F. (2022):

Vegetation composition and ecological characteristics of the forest in the Shawilks Mountain Range from Western Himalayas. Acta Ecologica Sinica : doi: 10.1016/j.chnaes.2022.10.008

Haq SM, Yaqoob U, Majeed M, Amjad MS, Hassan M, Ahmad R, Waheed M, Bussmann RW, Calizto ES, Próków J, de la Lastra JMP, Moralez-de-la-Nuez A. (2022):

Quantitative ethnoveterinary study on plant resource utilization by indigenous communities in high-altitude regions. Frontiers in Veterinary Science 9:944046: doi: 10.3389/fvets.2022.944046

Hassan M, Abdullah A, Haq SM, Yaqoob U, Bussmann RW, Waheed M (2022):

Cross-ethnic use of ethnoveterinary medicine in the Kashmir Himalaya - A Northwestern Himalayan region. Acta Ecologica Sinica : doi: 10.1016/j.chnaes.2022.07.010

Hassan M, Haq SM, Ahmad R, Majeed M, Sahito HA, Shirani M, Mubeen I, Aziz MA, Pieroni A, Bussmann RW, Alataway A, Dewidar AZ, Al-Yafrisi M, Elansary HO, Yessoufou K. (2022):

Traditional Use of wild and domestic fauna among different ethnic groups in the Western Himalayas - A Cross Cultural Analysis. Animals 12:2276: doi: 10.3390/ani12172276

Hassan M, Haq SM, Majeed M, Umair M Sahito HA, Shirani M, Waheed M, Aziz R, Ahmad R, Bussmann RW, Alataway A, Dewidar AZ, El-Abedin TKZ, Al-Yafrsi M, Elansary HO, Yessoufou K. (2022):

Traditional Food and Medicine: Ethno-Traditional Usage of Fish Fauna across the Valley of Kashmir: A Western Himalayan Region. Diversity 14(6):455: doi: 10.3390/d14060455

Hussain S, Hussain W, Nawaz A, Badshah L, Ali A, Ullah S, Ali M, Hussain H, Bussmann RW. (2022):

Quantitative ethnomedicinal study of indigenous knowledge on medicinal plants used by the tribal communities of Central Kurram Khyber Pakhtunkhwa Pakistan. Ethnobotany Research and Applications 23:5: doi: 10.32859/era.23.5.1-31

Khalid N, Khan AM, Qureshi R, Saqib Z, Zahid N, Bussmann RW. (2022):

Exploration of important environmental determinants of flowering phenology of the Western Himalayan Forests of Dhirkot Azad Jammu and Kashmir Pakistan. Applied Ecology and Environmental Research 20(1): doi: 10.15666/aeer/2001_301337

Khoja AA, Andrabi SAH, Mir RA, Bussmann RW. (2022):

Ethnobiological uses of plant species among the three ethnic communities in the administrative District (Kupwara) of Jammu and Kashmir-India: A cross-cultural analysis. Ethnobotany Research and Applications 24:20: doi: 10.32859/era.24.20.1-22

Khoja AA, Haq SM, Majeed M, Hassan M, Waheed M, Yaqoob U, Bussmann RW, Alataway A, Dewidar AZ, Al-Yafrsi M, Elansary HO, Yessoufou K, Zaman W. (2022):

Diversity Ecological and Traditional Knowledge of Pteridophytes in the Western Himalayas. Diversity 14:628: doi: 10.3390/d14080628

Kunwar RM, Baral B, Luintel S, Uprety Y, Poudel RC, Adhikari B, Adhikari YA, Subedi SC, Subedi CK, Poudel P, Paudel HR, Paudel BV, Mahat Kunwar L, Upadhayaya LS, Bhattarai S, Pyakurel D, Kutal DH, Pandey P, Bhandari A, Thapa GJ, Paniagua NY, Bussmann RW. (2022):

Ethnomedicinal landscape: distribution of used medicinal plant species in Nepal. Journal of Ethnobiology and Ethnomedicine 18:34: doi: 10.1186/s13002-022-00531-x

Mir TA, Jan M, Bussmann RW, Bilal T. (2022):

Inventory of medicinal herbs utilized for the treatment of musculoskeletal disorders in district Kupwara of Jammu and Kashmir. Ethnobotany Research and Applications 24:30: doi: 10.32859/era.24.30.1-13

Mir TA, Jan M, Jan HA, Bussmann RW, Sisto FA. (2022):

Cross-cultural analysis of medicinal plant utilization among the four ethnic communities in Northern Regions of Jammu and Kashmir India. Biology 11:1578: doi: 10.3390/biology11111578

Nazli Begum HA, Hamayun M, Khan A, Yaseen T, Bussmann RW, Murad W. (2022):

Quantitative ethnobotanical appraisal of medicinal plants used by indigenous communities of District Malakand Pakistan. Ethnobotany Research and Applications 24:1: doi: 10.32859/era.24.1.1-14

Shah A, Badshah L, Bussmann RW, Muhammad M, Abdullah, Ullah F, Khan S, Khan N. (2022):

Quantitative study of the food flavoring spice mixtures used in the traditional markets of District Bannu Khyber Pakhtunkhwa Pakistan. Ethnobotany Research and Applications 23:26: doi: 10.32859/era.26.20.1-33

Targe K, Lyngdoh S, Bussmann RW, Adhikari BS. (2022):

Conservation linkages of threatened medicinal plants used in traditional health care system in Pin Valley National Park Himachal Pradesh India.. Ethnobotany Research and Applications 24:36: doi: 10.32859/era.24.36.1-22

Waheed M, Haq SM, Arshad F, Bussmann RW, Iqbal M, Bukhari NA, Hatamleh AA. (2022):

Grasses in Semi-Arid Lowlands-Community Composition and Spatial Dynamics with Special Regard to the Influence of Edaphic Factors.. Sustainability 14:14964: doi: 10.3390/su142214964

Waheed M, Haq SM, Fatima K, Arshad F, Bussman RW, Masood FR, Alataway A, Dewidar AZ, Almutairi KF, Elansary HO, Kassem HS, Al-Yafrasi M, Yessoufou K. (2022):

Ecological Distribution Patterns and Indicator Species Analysis of Climber Plants in Changa Manga Forest Plantation. Diversity 14:988: doi: 10.3390/d14110988