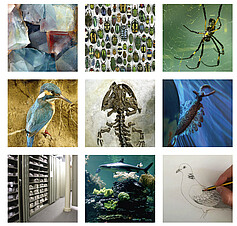 We are happy to welcome you back! With the opening of the temporary exhibition "Cosmos Coffee" all exhibitions are open again.
Please observe our safety and hygiene regulations.
Live web cam in our coral reef aquarium
Watch Kalli and Karla at play
Live-streaming impressions from our 240,000 litre giant aquarium with the biggest living coral reef in Germany – and the visitors' favourites, the black tip reef sharks Kalli and Karla.

Flora und vegetation of abandoned clay pits and of urban areas
Succession research allows us to witness how species...
[more]

ANS LICHT GEBRACHT Oktober bis Dezember 2020
Sondervitrine mit Schätzen aus den Sammlungen Da wir nicht...
[more]